Here is some of my very best advice for weddings, for guests and for couples getting married, gleaned from my 16 years as a celebrant. I'm not talking about wedding themes or colors to choose, or food selections, songs or dresses. These tips are simply practical guidance. As a couple plans a wedding, these ideas might help you enjoy the process and your wedding day.
Tips for Guests:
Be on time. I can't tell you how often I see guests hurrying into the ceremony as it's starting or arriving during and even afterward. If you have been invited to the ceremony, you have been invited to witness a special and even sacred time in their lives. It's not just a party! Allow for traffic and unforeseen delays! It's extremely rude to walk in late.
Please respond to invitations in a timely way as well.
Please note if the ceremony is outdoors and dress appropriately. You can always change your shoes and slip out of the coat later.
Turn off your phones and do not photograph the ceremony. Don't post wedding photos until the couple has posted (unless the couple says otherwise). Professional photos are always better than your cell phone and no one wants to see someone caught off-guard. The images of someone's wedding should be theirs to control. Sure some selfies of yourself are fine, but minimize what you share on social media, deferring to the couple's wishes. They may have a wedding hashtag and want you to post – just check to be sure.
Tips for Couples:
Break in your shoes and be comfortable. Bring some bandaids.
Invest in an officiant who will take the time to create something that truly works for you. Weddings have professional vendors for a reason. You're probably not making your own wedding cake or having a friend DJ for you. A professional officiant brings a lot to the table.
Select a unity ritual that resonates for you. Honor your culture (if it matters to you).
Remember that young children and dogs do not always cooperate for the ceremony. That's ok.
If there are children involved – involve them!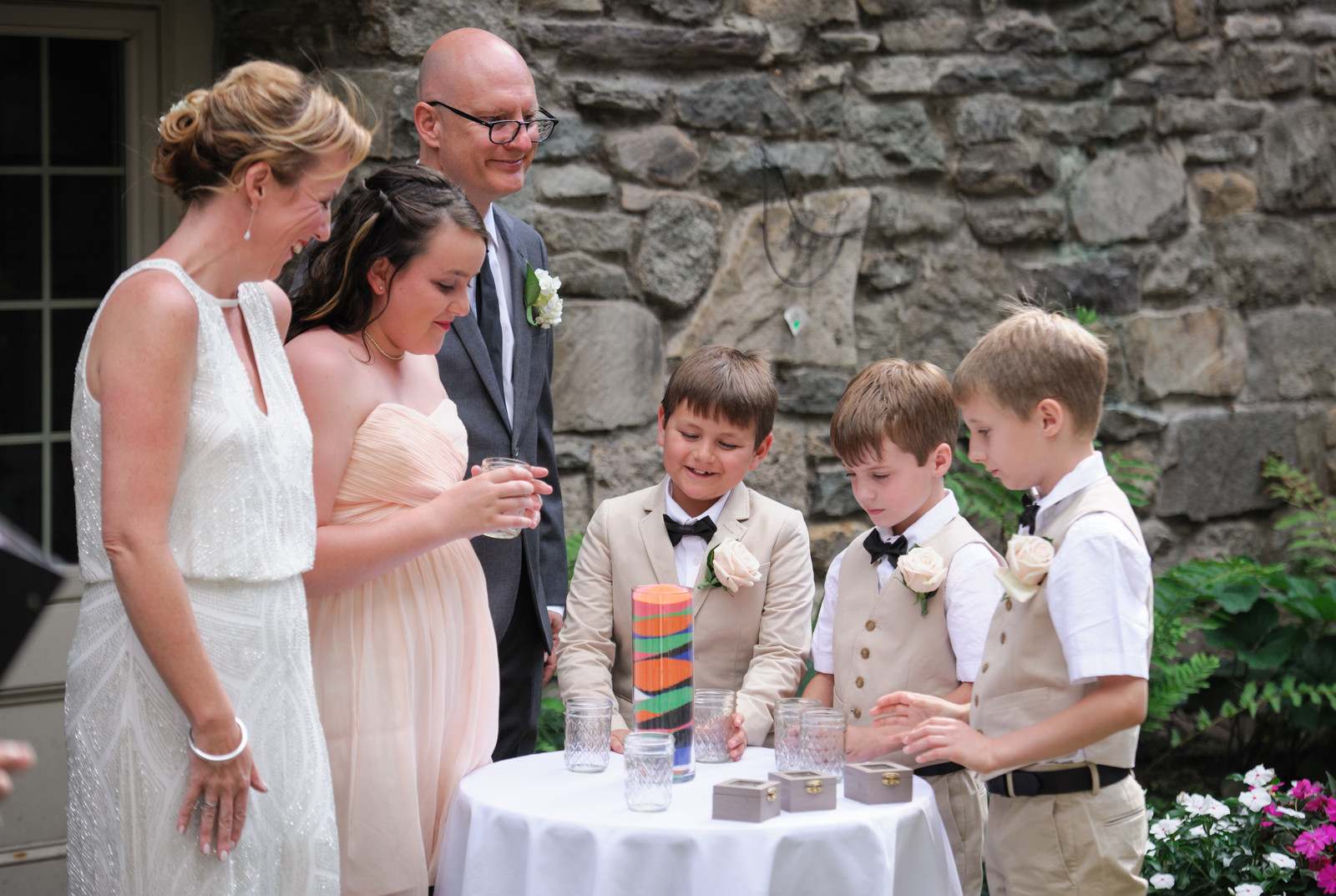 Children participate in the Sand Ceremony (Photo: Garth Woods)
Your bridesmaids/groomsmen can be whatever gender you wish – just call them attendants. And connected to that idea is that a woman can hold a ring, too, you know! I like the terms 'best man, best woman, or best person.'
Infuse your values into your wedding day. This can be done in many ways, through words in the ceremony, with donations to charity on behalf of yourself and your guests, or with favors and gifts purchased from an organization you care about.
Treat the planning as a test for your marriage which will also have ups and downs. You must learn to navigate conflict. Be kind to each other.
Don't obsess over the little things. If going over budget or stressing about details ask yourself: do I really need (for example) that many flowers? Do we need a wedding program, or limos? You may want these things, but if you are feeling overwhelmed, just let some things go. Figure out what matters the most to you and put your budget there. It is often good food and music.
Mind the gap between the ceremony and reception. You don't want your guests to be bored or not know what to do with that awkward time between the two.
Be mindful of loud music during dinner. Allow people the ability to talk. Dancing can come afterwards. Seat older guests further from the music and younger ones closer.
Have a great rain plan and don't be upset if it rains.
Don't set unrealistic expectations about it being the 'big day,' you are planning for a marriage, not just a wedding.